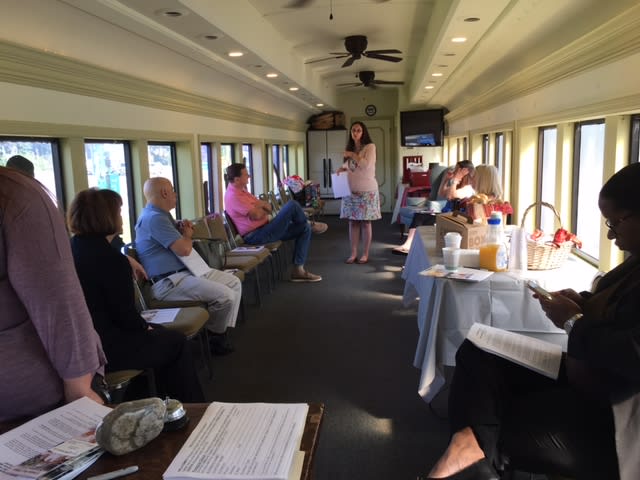 At our June 18, 2018 Quarterly Morning Network Meeting at the PJS/Terryville Chamber of Commerce Train Car, members were treated to a presentation by Tami DeLauro, on 
Protecting Your Assets and Healthcare.
The breakfast meeting was sponsored by the Bethpage Federal Credit Union. Thank you!
READ MORE
Tami DeLauro, a long time member of the Port Jefferson Station Chamber of Commerce, is owner and operator of
Center for Elder Services LLC
– Port Jefferson Station.
People of all ages and backgrounds have come to her and her team and received the guidance and services on a wide range of issues.  The comprehensive over view we had asked of her dealt primarily with protecting ones assets  – an important topic for our professional individuals and business owners.  The information we received was mind bending; Now, 'Entitlement planning' has great new meaning to us. She has this stuff, down!
As the meeting ended, a member remarked, "…I wish I had spoken to you years ago!' and another, 'I'm making an appointment with you – expect a call later today."
Tami and her staff have been in the business for over 25 years, writing the book, so to speak, as Long Island services, ngos and programs have developed and the parameters of Medicaid and Medicare have morphed.  She is at the leading edge of information on Long Island.  The services they provide are
We are thankful for her presentation  -and members of the PJSTville Chamber of Commerce are psyched that they have her number.
We did the KNOW ESCAPE Room-in Port Jefferson with Gracious member host Greg Hughes of Sound Beach as our network members meeting tonight. It was preceded by an informative meeting on community happenings
READ MORE
– – a pride rally, and about June's morning meeting topic, 'Covering Your Assets in the face of long Term Care' being presented by Tami.  Everyone should  know what a top notch Know Escape event is! It is undoubtedly true that Know Escape is the best escape room experience on Long Island. They were generous and fed us with an amazing spread. They only do one group at a time – it is well done, organized, spotless-a lovely atmosphere-perfect for team building, office parties, singles events-maybe? This August, 2018, Know Escape will be 'flipping' their designs. That means a brand new theme and escapes scenarios – this time with a Masquerade Theme.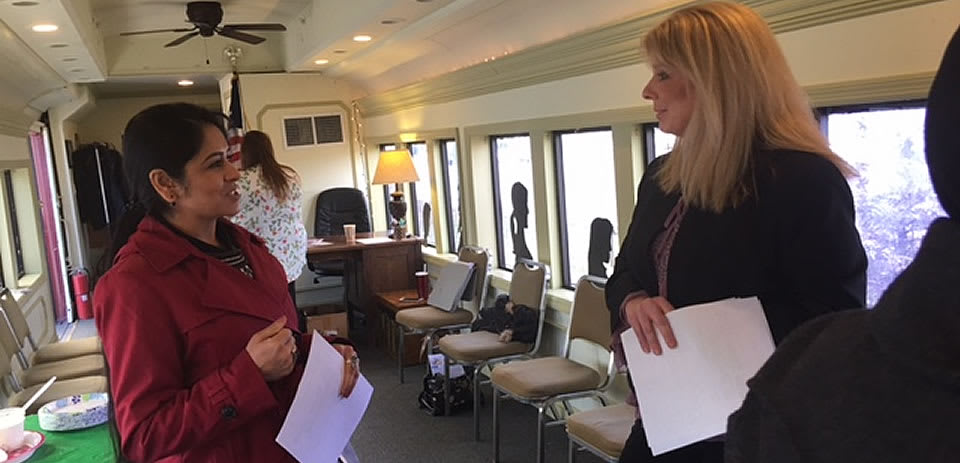 There was a lovely turnout at the latest Monday Morning Member-Meeting of the Port Jefferson Station/Terryville Chamber of Commerce. Everyone had lots of exciting news to share. Some of the businesses represented were
Holiday Inn Express of Stony Brook
,
Miller Business Center
,
Meadow Club Caterers
,
Teachers Federal Credit Union
and
D James Marketing
.
READ MORE
Kerri Szabo sales executive, representing Holiday Inn Express of Stony Brook, who was recently written up in Newsday's 'Long Island Movers and Shakers' upon joining the HIE team. New to HIE, she was all too happy to tout the complimentary shuttle offered by HIE to/from Mac Arthur Airport, SBU, the university hospital, Stony Brook train station and anyplace within a three to five mile radius of the hotel.  They have also recently renovated. www.stonybrookny.hiexpress.com.
Alex Blend representing the Miller Business Center at the Middle Country Public Library in Centereach discussed the 11th Annual Strictly Business Event which is held from 9a-1p among patrons at the library on May 1, 2108. It is a joint initiative with the Brookhaven Chambers of Commerce Coalition that has had great success. Venders will even be treated to breakfast the morning of, at 8am at MCPL. www.strictlybusinesstradeshow.org.
Indu Kaur, owner/manager of the Meadow Club Caterers of Port Jefferson Station explained their philanthropic missions which range from annually hosting the free, globally celebrated, International Yoga Day to sponsorship of music, independent films, and theatre including ,Guerilla Girls, at SBU. Additionally she, her daughter and the staff of Meadow Club take turns serving lunch at local churches which are the beneficiaries of their food donations each Sunday. www.themeadowclub.com
Diane Jensen, Branch Manager of Teacher Federal Credit Union of Port Jefferson Station announced TFCU's partnership with National Energy connection offering a 96 month Solar loan program to purchase your own system for your home. With a 7.99% rate and as little as $0 down, 0 interest for the first 24 months plus no payment for those first two years, members can recover their state and federal solar tax incentives and apply them towards the loan. See PVEnergy@TeachersFCU.org or call 631-698-7000 ext 3700 for more information.
Doreen Guma, owner of DJ Marketing of Port Jefferson Station and the Time to Play Foundation discussed her Empower Half Hour-Mastermind of Business Success. This live Facebook discussion takes place on April 3, 2018 and is a coordinated event with the Port Jefferson Station/Terryville Chamber of Commerce; it is open to all chamber members and takes place at the train car on the corner of NYS Rte 112 and Rte 347. www.timetoplayfoundation.org.
Taking it all in and taking notes of our news and networking was Tehmina Tirmizi, a second year graduate student working on her Masters of Social work. She is interning in Brookhaven Councilwoman Cartright's office.