Our new Port Jefferson Station/Terryville Chamber of Commerce spotlight shines on Smith Point Fence, Inc. of Port Jefferson Station.
Owners Kevin Bellois and Kristopher Mannino graciously donated to our fund, covering the cost of a new American flag. We thank them for their generosity. Repair and replacement costs of the flag are significant and ongoing.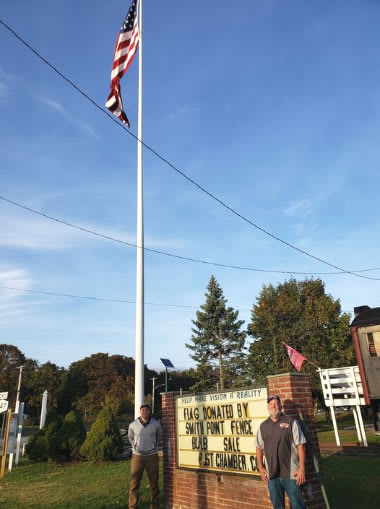 Smith Point Fence specializes in residential and commercial installation of wood, PVC, chain-link, stockade and aluminum fencing as well as railings and gates. They offer expert repairs to your existing fences also. And if you're looking to 'do it yourself', they can easily accommodate those needs.
Every project, large or small, is treated with the same quality materials and affordable pricing. Kris and Kevin employ a super staff, great with serving customers. Kevin explained, "Between Kris and I, we have over 60 years experience in this business." Their website is full of photos of their work. It is inspiring. No wonder Smith Point Fence has grown into one of Long Island's leading fence distributors.
Whether you're looking for traditional, custom or state of the art Eastern Illusions wood grain pvc, give them a call at 631.743.9797, visit them on Facebook, Instagram, and at www.Smithpointfence.com.
Stop in to their showroom at 70 Jayne Boulevard; the mid-century style building just north of NYS Rte 347, easily within sight of the new flag at the Port Jefferson Station/Terryville Chamber of Commerce Train Car.