Drawn by the folks dining alfresco and the festive umbrellas of the 18 plus outdoor tables, I dared not drive by. Allan Sancho, Manager, and resident of Port Jefferson Station, met me as I approached Margaritas Cafe, with a glint in his eyes seen over his mask, and outstretched arms motioning to the vibrant sidewalk scene.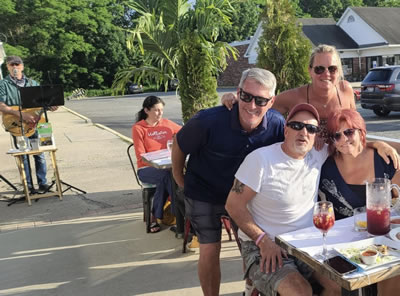 Margaritas Cafe, 4747 Route 347/Nesconset Highway opened just two years ago, with great fanfare and continues to enjoy a healthy following. They are minority owned, by William Martinez. There are 10 Margaritas Cafes and three of The Cuban restaurants on Long Island.
The Port Jefferson Station/Terryville Chamber of Commerce is grateful for Margaritas Cafe sponsorship of the Free Wednesday Summer Concert Series held at the chamber train car last year. Allen attends our member meetings for Margaritas Cafe and tells me, "This Chamber of Commerce finds many ways to help; they encourage new businesses and are always communicating with us. We feel appreciated and connected here." Currently they are looking to coordinate with the local school district to be a destination for graduation dinners.
Every weekend you can enjoy live music, Wednesdays is Fajita Night and Tuesdays is Margarita Night – just $2.95 each. Visit them for outdoor dining and as of June 24th, indoor. Contact them at 631.642.8555 and www.margaritascafe.com