One of the last remaining early nineteen hundreds electric baggage coach car was put in service around 1914, traveling from Jamaica Station to Manhattan. The railroad car, out of service, was transported to it's current location in the mid-seventies on the crossroads of Nesconset Highway and Route 112, in the the downtown business district of Port Jefferson Station.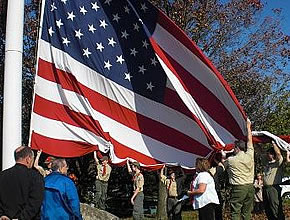 Access to the Train Park is by Canal Road North Loop, behind the tourism center. Picnic benches are available.
The L.I.R.R. Railroad Car is a Suffolk County Landmark situated alongside the Chambers Memorial American Flag Park. The exterior of the Railroad Car is all original paint matched to the original color of the car. The interior is modernized for practical uses. In the flag circle there is a 911 Memorial Stone set in place by the Port Jefferson Station/Terryville Civic Association.