One of the most loyal and long time members of the Port Jefferson Station/Terryville Chamber of Commerce pays it forward! The folks at SERVPRO- PJ/StonyBrook graciously provided our treasured historic train car to a courtesy cleaning. They administered their antimicrobial fogging, disinfectant wipe down using CDC recommended protocols for biological contaminants such as virus and influenza. The Port Jefferson Station/Terryville Chamber of Commerce thanks owner Risa Kluger, Sales Marketing Rep. Jackie Wolosin and their certified professional duo for coming out.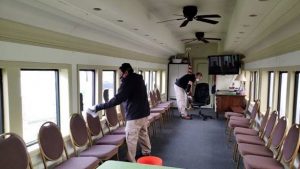 Servpro PJ/StonyBrook has been in business for over 25 years, and employs over 25 certified technicians handling fire, water, and mold clean up and restoration.  We see either Jackie or Risa at our Port Jefferson Station/Terryville Chamber of Commerce member meetings and business to community events. At a recent meeting Jackie explained their residential and commercial abilities. "We do such a thorough job that when you go back to the site of the disaster, it looks like nothing ever happened." She added that 'We handle anything; if the Smithaven Mall had a fire, we can handle it." We know their motto, 'Like it Never Even Happened."
We understand SERVPRO PJ/Stony Brook has  provided their  Commercial viral/Influenza bioremediation service free, to a couple of local fire departments, soon to tackle PJV Hall. Risa Kluger's office is located at 501 Middle Country Road, Coram and owns the Hicksville and Plainview franchise as well.  Contact them 24/7 at 631.476.5300 at www.servproportjefferson.com.