Creative Ice Cream That's Ahead of the Curve

I got a happy surprise yesterday at Sundaes – I enjoyed a custom-built Acai Bowl.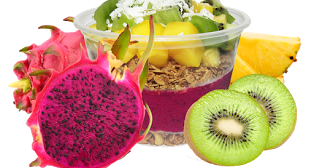 By choosing from the wide variety of the mix-ins offered by owner Erin Tortora, I tailored the dessert to my personal sugar and grain free needs. I savored it. Sundaes in Port Jefferson Station is located near PJ Cinemas, on Route 112. They have been serving up the latest and greatest ice cream for the last six years. From Edible Cookie Dough to the extremely low calorie Only 8, both Erin's creations, Sundaes works to stay on top of trends in ice cream & desserts.

"I was going into the movie theater with my kids one day and saw a 'this site available' sign on the store front of what was then 'Swirls & Twirls'.  I thought, 'I can do this'.  I felt then as I do now, there is always a demand for ice cream shops,' said Erin.
Sundaes is a cool business.  They participate with all scout troops and is a source of education, offering a Girl Scout patch after troops tour the ins and outs of the business. It is a great spot for birthday parties for five to 50 people which are full of wholesome fun with games like hot potato, freeze dance, limbo, musical chairs and line dancing.
I suggest you pop into Sundaes in the Port Plaza for something super tasty and suited just for you.   You can reach them at 631 509.4155.